What is the CPLC Scholarship?

The 42 Division CPLC Scholarship was created to recognize and provide financial support to a student
living and attending school in our residential district. $1000 each will be awarded to three(3) students
who have demonstrated leadership, academic achievement, and a commitment to their community.
Financial need is a consideration.
Who Can Apply?
You must meet all of the following criteria:

• Live and attend school in the geographic area of 42 Division. 42 Division boundaries are: On the
West – Victoria Park: On the East – the Scarborough/Pickering border; On the South – the 401;
and on the North – the south side of Steeles Avenue East
• Must be graduating in 2022/2023
• Have demonstrated commitment to co-curricular activities and community service
• Currently enrolled, or enrolled within the last year, in a full-time, recognized academic secondary
school
• Have been accepted by and will be enrolling in a post-secondary institution in 2023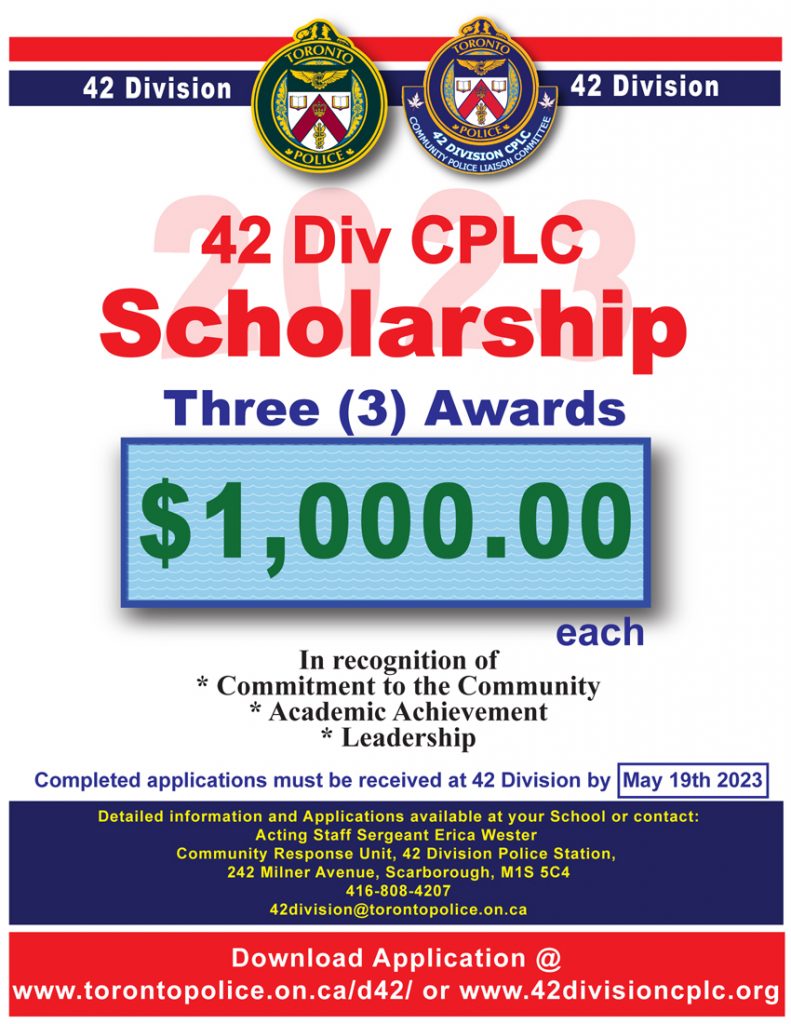 Who is NOT eligible?
Person(s) related to a CPLC member
Person(s) related to members of Toronto Police Services
Person(s) who do not live or attend school in 42 Division
How Do I Apply?
Complete the attached application form and submit the application and all required documents by
May 19th, 2023. Completed applications are to be sent to:
Acting Staff Sergeant Erica Wester, 42 Division,
242 Milner Avenue, Scarborough, Ontario, M1S 5C4
(Because of Covid restrictions, electronic submissions will be accepted this year.)
Documents needed are:
• A minimum of two letters of reference with at least one originating from your school and one
from a community organization
• Certified copy of your most recent Student Credit Counselling Summary and Timetable
• Essays as described in Section D attached to completed application
Please click on the link below to download the application
https://www.tps.ca/media/filer_public/06/71/06718071-df5f-47d0-84e3-426104146804/69b55ba2-d29e-4e22-8782-95052bf1273f.pdf
by May 19th, 2023. Late applications will NOT be accepted
Who Makes the Decision?
A judging panel comprised of police officers from 42 Division and members of the CPLC.
The Scholarship recipient will be notified no later than June 1st, 2023.